The following YouTube video was banned.
That is why we uploaded the video on Bitchute for the public to see this barbarism! It has to be exposed!
Eric SmidtPublished on Aug 29, 2015SUBSCRIBED 15KLa Cabala. That is, the magical and esoteric aspect of Judaism. Due to the mental schizophrenia of Judaism, to its history of moral misery and closed sectarianism, it has created for centuries an esoteric and secretive vision, replete with symbols and rites generated during centuries of obscurantism, in the synagogues and the dark meetings of the ghettos … all that set of beliefs form the Cabala. There is a clear relationship between religious 'sacred' texts of Judaism and Kabbalah. In reality, the performance of Ritual Crimes demands or has normally required the intervention of an esoteric component of the Kabbalah. They have always been Jewish Orthodox elements, greatly influenced by cabalistic follies and by an excessive hatred those who have intervened in those events. This does not prevent events that are clearly ritualistic crimes, almost always disguised by the press, and more or less hidden in motivations of a 'vampirist' type or under forms of demonic 'madness'. When there has been talk of a crime carried out in ritual forms, a dark veil has always been left on the subject, even when the author has been found, and he has been condemned, but always without clarifying the ritualistic aspect of the crime. It is not surprising that there have been some cases among Palestinian children that may be clearly ritual crimes, and it is very likely that there have been several more cases scattered around the world in recent years. In the first place it is worth highlighting a very common Jewish expression that has already passed into our culture, this is "scapegoat" or "emissary goat". This has its origin in the tradition of making sacrifices with animals to obtain the help of Jehovah. Not even they deny it. Now, when reading the Talmud we find passages like this: "… because it has been said: and we, sheep of my pasture, you are men (Ezekiel XXXIV, 31, note 342 of Chapter VI), we are called men, but the idolaters are not called men … "(Treatise Lebamot, 61a, 242). This: "The creature that is in the belly of a Canaanite slave is the same as the baby that is in the belly of an animal." (Kidushin, 69a, page 274). they call us men, but they do not call idolaters men … "(Treatise Yebamot, 61a, 242). This: "The creature that is in the belly of a Canaanite slave is the same as the baby that is in the belly of an animal." (Kidushin, 69a, page 274). they call us men, but they do not call idolaters men … "(Treatise Yebamot, 61a, 242). This: "The creature that is in the belly of a Canaanite slave is the same as the baby that is in the belly of an animal." (Kidushin, 69a, page 274).
source: YouTube: Eric Smidt Published on Aug 29, 2015

Eric SmidtPublished on Aug 29, 2015SUBSCRIBED 15KLa Cábala. O sea la vertiente mágica y esotérica del Judaísmo. Debido a la esquizofrenia mental propia del judaísmo, a su historia de miseria moral y de sectarismo cerrado, ha creado durante siglos una visión esotérica y secretista, repleta de símbolos y ritos generados durante siglos de oscurantismo, en las sinagogas y las tenebrosas reuniones de los guettos… todo ese conjunto de creencias forman la Cábala. Existe una relación clara entre textos 'sagrados' religiosos del judaísmo y la Cábala. En realidad la realización de Crímenes Rituales exige o ha exigido normalmente la intervención de una componente esotérica, de la Cábala. Han sido siempre elementos ortodoxos judíos, influidos grandemente por las locuras cabalísticas y por un odio desmedido los que han intervenido en esos hechos. Eso no evita que se hayan producido periódicamente hechos que son claramente crímenes rituales, casi siempre disimulados por la prensa, y más o menos ocultos en motivaciones de tipo 'vámpirista' o bajo formas de 'locura' demoníaca. Cuando se ha hablado de un crimen efectuado bajo formas rituales siempre se ha dejado un oscuro velo al tema, incluso cuando se ha encontrado al autor, y se le ha condenado, pero siempre sin aclarar el aspecto ritualista del crimen. No es de extrañar que hayan existido algunos casos entre niños palestinos que pueden ser claramente crímenes rituales, y es muy probable que se hayan producido varios casos más dispersados por todo el mundo en los últimos años. En primer lugar cabe destacar una expresión judía muy común que ya ha pasado a nuestra cultura, esta es "chivo expiatorio" o "chivo emisario". Esta tiene su origen en la tradición de hacer sacrificios con animales para lograr la ayuda de Jehová. Ni siquiera ellos mismos lo niegan. Ahora bien, al leer el Talmud encontramos pasajes como este: "…porque se ha dicho: y nosotros, ovejas de mi pasto, hombres sois (Ezeq. XXXIV, 31, nota 342 del Cap. VI), a nosotros os llaman hombres, pero no llaman hombres a los idolatras…" (Tratado Iebamot, 61a, pág. 242). Este: "La criatura que se halla en el vientre de una esclava cananea es igual que la cría que se halla en el vientre de un animal". (Kidushín, 69a, pág. 274).
source: Youtube: Eric Smidt Published on Aug 29, 2015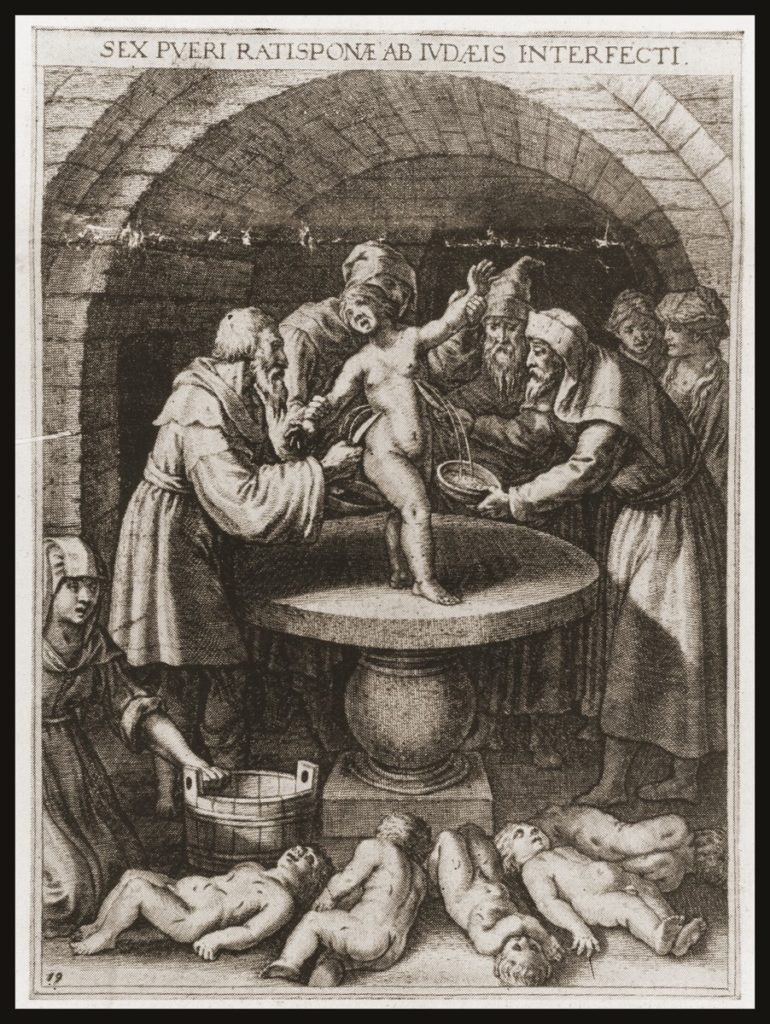 The social media platform's removal of content dedicated to a disgusting antisemitic slur is long overdue
The New Year begins with news that Facebook has at long last removed the notorious "Jewish Ritual Murder" page from its site.
There is nothing to welcome or applaud in this scandalously late decision. The fact remains that year in, year out, Facebook, that symbol of global modernity, refused point-blank to remove a page that was literally dedicated to one of the oldest and most disgusting anti-Jewish hatreds of all: the medieval accusation that Jews kill non-Jews in order to use their blood and body organs for religious purpose.
As an example of hatred, old and new, it was hard to beat.
CST, the Anti-Defamation League and many others have repeatedly demanded the page's removal, which made a mockery of Facebook's "community values".
Now, the page has finally been removed, following a research project by American "non-profit newsroom" ProPublica, in which Facebook was asked to explain the continuing presence of 49 hateful and offensive pages upon its site.
In regard to the "Jewish Ritual Murder" page, the ProPublica report states: "The company categorized its original decision – to leave the page up – as a mistake. It was removed after ProPublica asked for an explanation".
The introduction to the ProPublica report implies that Facebook's "content reviewers" were to blame for inconsistencies in what is allowed or deleted on the site. This was repeated in The Times coverage which spoke of "moderators" and the need for better training, saying: "Facebook is failing to enforce its hate-speech policies and has admitted that moderators made the wrong calls in almost half the cases flagged in an investigation".
Call them what you will, there is no doubt that Facebook's content reviewers or moderators do need better training and they do need to be more consistent, but let us be very clear that CST, the Anti-Defamation League and others have fruitlessly discussed the "Jewish Ritual Murder" page ad nauseum with senior Facebook officials for years. Occasionally, the outcomes became public, such as in February 2014 when a Facebook spokesperson told the Jewish Chronicle: "We have long believed that simply removing such content from Facebook will not help to overcome ignorance. While this tests us all, having the freedom to debate serious issues like this is how we fight prejudice."
The hectoring tone, telling Jews that keeping medieval Jew-hatred on-line "is how we fight prejudice" is entirely typical of how Facebook approached such things four years ago. My abiding memory of this period is of an anti-hate crime conference in which a senior Facebook official said that the best response to Holocaust denial on Facebook was for Holocaust survivors to join in and argue back! I strongly intervened, saying that this typified their utter ignorance of hate crime, extremism and its impact upon victims.
That is how Facebook used to be. It is not how Facebook now is. Patronising disdain and the free-speech parrot routine have gone. The platform now employs proper experts on hate and radicalism and is trying to be seen as a force for good. It is easy to say that much of this shift is propelled by reputational and legal concerns, but the fact remains that Facebook is a huge organisation that is, however belatedly and for whatever reasons, deliberately turning itself around on these issues.
At CST, our relationship with Facebook is largely positive. We have seen at first hand just how far the company has travelled, especially in the last year, but the company's removal of the "Jewish Ritual Murder" page merely brings it to the barest minimum standard that ought to be expected of anyone.
Mark Gardner is the communications director of the Community Security Trust